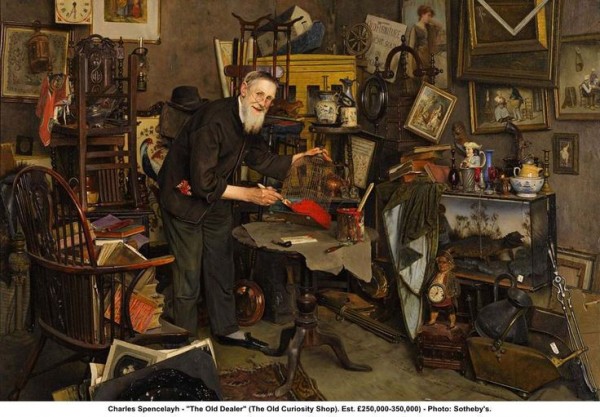 I've always loved old things, especially useful but baffling objects from the 19th century. In museums you will find me staring at cases full of marrow scoops and asparagus tongs or marvelling at complete dessert services for 100 people, including tazzas and lidded ice pails. I'm always ready to stop at flea markets and antique shops because my mantra is "You never know." In other words, you'll never know what you might find if you stopped even if it was just… you shouldn't have stopped.
So when my friend suggested she could take me antique shopping in Rangoon I was thrilled. Her friend advised I should go alone to a couple of junk shops on the Dhammazedi road first, to get a feel of what it was like; so armed with a map she marked for me I set off on an overcast but sweltering day, wearing khaki trousers with pockets, plastic flip-flops and a baggy linen shirt. I had some researching to do in that part of town and it looked as though it would just be half an hour's walk away.
When I came out of the Myanmar Book Centre it was drizzling. The whole forecourt was one massive puddle. I splashed along to the street and turned in the direction of the junk shops. I had an umbrella and used it. The rain was torrential, then misty, then drifting, then torrential again. Well what could I expect at the end of the monsoon season? I walked along the pavement on top of the monsoon drain, which is covered in pavers with little gaps to let the water in. Then there were no more pavers over the open drain, so I walked in the road, cars swishing very close to me. I crossed the road when I saw a sidewalk, proceeded for several blocks, then ran into a restaurant being built out onto the pavement, so it was back to the road again. At this point there was a tidal wave of yellow muddy water to step through. Thank goodness my relative, Rachel Minus had suggested I wear flip-flops.
At one point, fearing I was lost, I asked a uniformed guard in a kiosk by a big gate if I was going the right way. Well, I waved my map at him and jabbed at it and he pointed me in the right direction. Lots of smiles all around, from both sides. Later, I learned he was a Government soldier, and people marvelled at how brave I'd been. No, not brave, just befuddled, lost and desperate. Finally I found the two junk shops. One was completely useless, but the other looked intriguing. It was run by this gentleman:
He sat me down on a none too clean chair and offered me some water in an old mug that he dusted with an equally suspect cloth. He handed me the goods I was interested in and didn't seem downcast when I demurred at his expensive prices. When I returned something to him with a shake of the head, he sang a few bars of "Return to Sender," a la Elvis Presley. He had the most amazing, large, vintage tin advertising sign at an equally amazingly large price, and to this day I wish I had bought it.
I could have stayed longer but I had to go. Trying to flag down a taxi on this busy road was a performance. After the fifth one turned me down, he suggested I would have better luck if I crossed the road, as the taxis were going in the right direction. So, I took my umbrella and life in my hands and waded shin deep in water across six lanes of traffic. The drivers were very polite, and slowed down as they diverted around me, but didn't actually stop.
When I finally got back to my fairly swish hotel, I looked like an extra from "Raiders of the Lost Ark." Trousers were wet to the thigh and muddy. The linen shirt was stuck to my back. My hair had turned into rats tails with the humidity. I was pink and sweaty and completely the opposite of the dainty Burmese women arriving for a wedding, clad in embroidered silk longyis; hair, nails and makeup glossy and perfect, skin powdered, diamonds glinting and kitten heels clacking.
Refreshed with a shower and change of clothes, I walked to my friend's and was introduced to her landlord who was going to be guiding us on the afternoon's antiquing trip. Bala was a Muslim born and bred in Yangon, and after many ups and downs with family fortunes was now a wealthy landowner. We were going to his old neighbourhood of Thingangyun, in the north east part of the city. The area was once the home of the prosperous Burmese middle class, and was still full of gently decaying teak homes with gingerbread trim. These were gradually being eroded in favour of new, shiny concrete and tile houses with barred windows. I suppose those materials are more easy-care in the harsh climate but they are not hla (pretty.)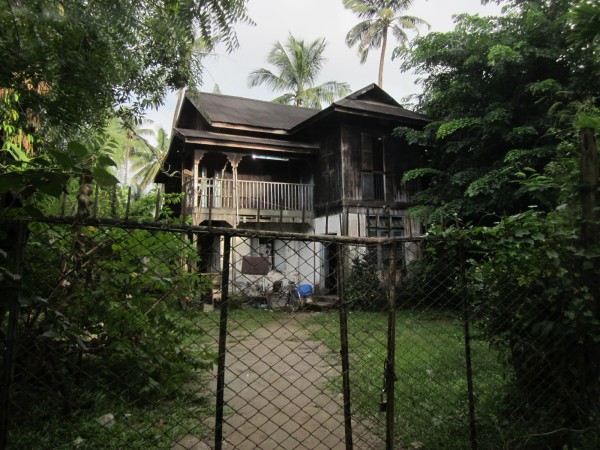 Two hla homes.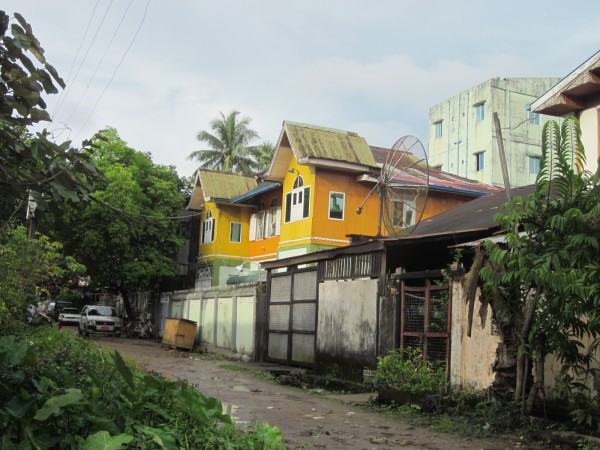 This small neighbourhood contained a Buddhist paya, a Hindu temple, a Muslim mosque and a Catholic nunnery. Everyone seemed to live beside each other with no divisions of race, class or religion.There were open drains and puddles galore, goats, chickens, and even cows tied up outside houses. alongside rundown cars.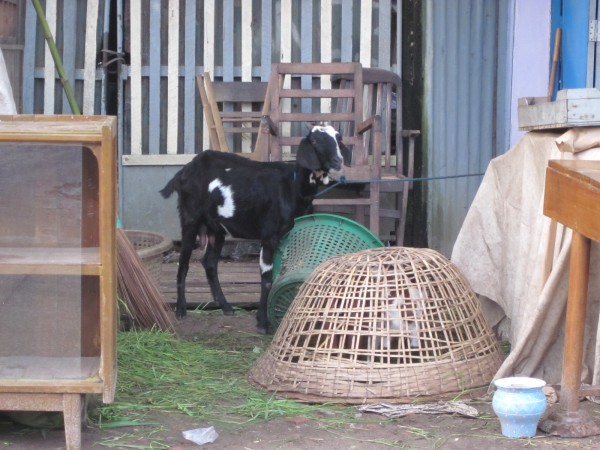 We didn't actually go into any shops. Bala knew people who demolished houses, or built cupboards and doors, and he took us to their workshops. Piled high outside would be wonderful Art Deco furniture in teak and rattan, deforming in the rain. Some of the places had shelves with a few objects that they had thought worth saving, but I wondered what they had left behind.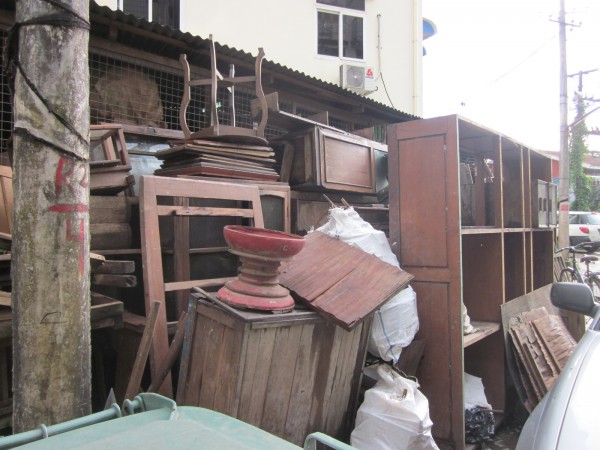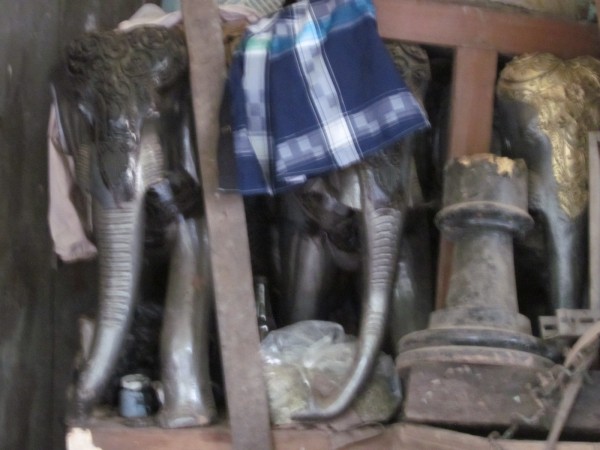 I found an Art Deco stepped glass vase for Laetitia in one place, practically the only piece of glass we saw that wasn't damaged. Bala translated for us and we paid in US dollars. My treasure was a late 19th century or early 20th century teak carving of a Burmese Naga, a mythical serpent dragon. It had once been on the front of a cupboard, and was slightly damaged on one side. It was grey and filthy with cobwebs deep inside the undercuts, but I could see the work was complex and crisp. For thirty dollars it was mine! After being scrubbed with a toothbrush and oiled, it now hangs in my office at the bottom of the basement stairs. The wood is black, the serpent smiles and every time I look at it, so do I.