The name A.C. Martin means very little to people now, except for the handful of remaining descendants of the Armenian community living in Yangon today. If you have been to Yangon, Myanmar, you have walked past some of A. C Martin's buildings including the General Post Office, which used to house the offices of Bullock Brothers & Co., a pre-eminent rice trading company. If you missed this, you almost certainly have walked on the roads he built.
If you were lucky enough to have a knowledgeable guide, as I did a few years ago, you might have climbed the betel stained stairs above some shops, and seen the plaque bearing his name.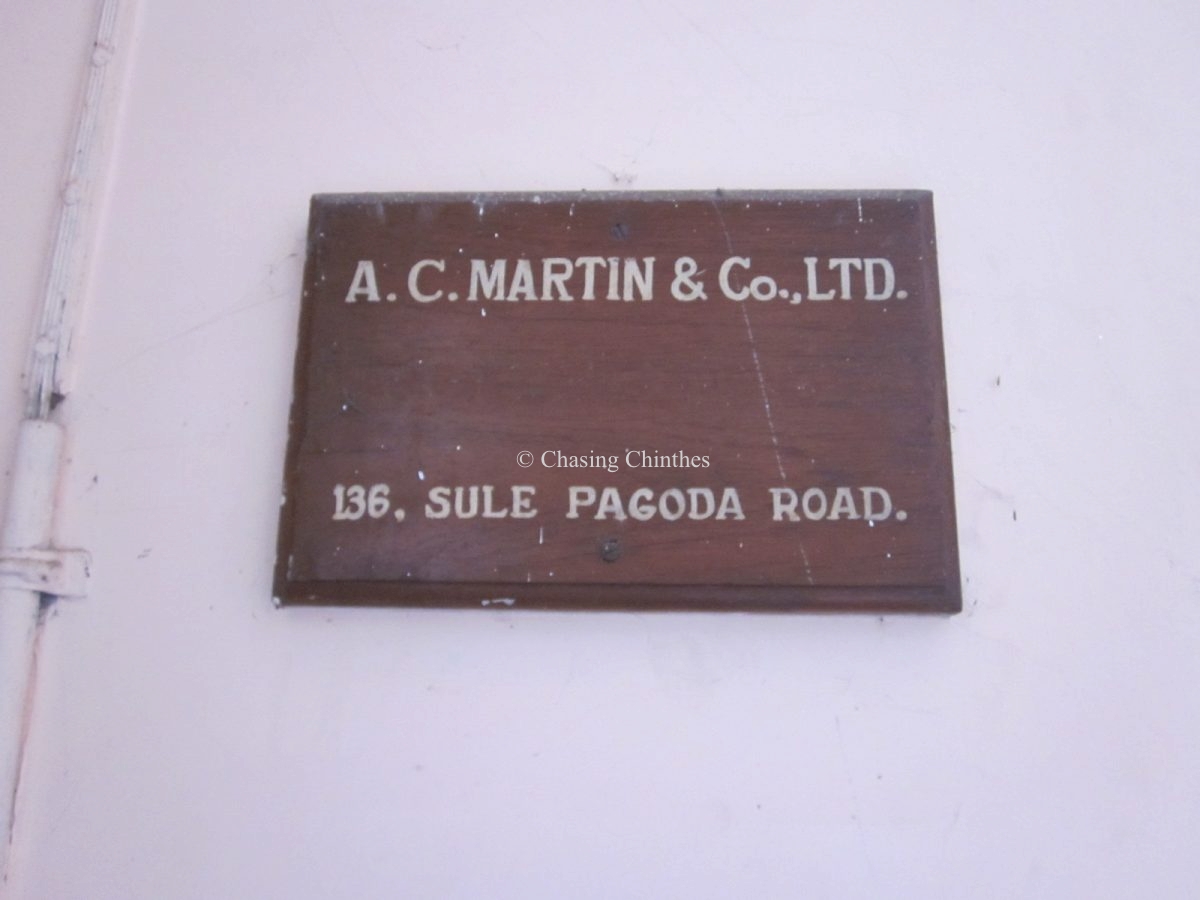 However obscure his name is today, in the late 19th and early 20th century he was well known in the Armenian community and the Rangoon Public Works Department as a superb engineer and builder. Below is an excerpt from a book on Burma, published in 1910, "Twentieth Century Impressions of Burma". Read his biography and note the date. Five years later, Mr. Martin was tricked out of a fortune by the petty machinations of a District Commissioner in Tavoy.
On the 5th of January, 1915, Mr. A. C. Martin and his partner, Mr. DePaulsen, received a one year prospecting license from the government for an area in the Paungdaw region, Burma. They were interested in the extraction of wolfram.
The men went ahead with exploration and invested in excavations and buildings to deal with the wolfram they found on the 766 acre site. All was going quite well until they realized that they could not continue to renew and hold the license as neither was a British citizen. Like many British subjects in India (as Burma was still considered part of Bengal then) Mr. Martin was anxious to apply and receive the benefits of the Indian Naturalization Act of 1852, which allowed some who could prove they had lived most of their lives in a British colony to receive a British passport. Quite a few naturalizations had been granted to Armenians born in Persia but now living in India. Many of his friends such as the Manooks had received theirs with no problem. The case of Mr. DePaulsen was not as strong, though, as he was a citizen of Denmark and had been in the country only a few years. In Nov. 1915, Mr. Martin instructed his lawyer to apply for his and Mr. DePaulsen's naturalizations. "Memorials" or affidavits were sworn by both men and although Mr. DePaulsen's case wasn't strong, Arrakiel Carrapiet Martin's was. He had been in India for 40 years, had never been back to Ispahan where he was born, had property in Mandalay and Rangoon and had built up several businesses in Burma. He was confident he would get his naturalization.
The first few papers in the file seemed to agree with this.
From the Senior Registrar, 27. 12. 1915:
"There seems no good reason for reconsidering Mr. DePaulsen's case and drafts saying so may be put up.
2. Mr. Martin on the other hand was born in Persia but appears to have lived in India nearly all his life. I think (sic) may get a certificate."
From the Chief Secretary, M. Keith, 30.12.15:
"I know nothing about Mr. Martin, nor has F.C. [Financial Commissioner] sufficient information to justify an opinion on the desirability or not of naturalizing him. I suggest that the D.C. Tavoy [District Commissioner of Tavoy] be asked to state his opinion. I agree that there is no reason for reconsidering DePaulsen's case."
Even as late as 1.1.1916, another civil servant reiterates this advice, mentions Mr. Martin's long service with the Public Works Department, the fact nothing is known against him in Rangoon where he lives and that he doubts the D.C. in Tavoy knows anything about him.
"The matter seems to be one of principle as other Persians are being given certificates at the present time. As A.C. Martin is a Persian only by name and has lived in India since 1895 when he was 10 years of age, [actually he moved to India in 1875] never returning to Ispahan and has worked for 15 years in the P.W.D. he seems to have a strong claim in equity to be naturalized. I submit a draft telegram….. if it is considered necessary to consult the D.C."
Far from the D.C. in Tavoy, a Mr. W.B. Brander, I.C.S., not knowing anything about Mr. Martin, we see a letter he sent on the 7th of December to Mr. Martin and Mr. DePaulsen, one week after their lawyer asks for them to be naturalized. He asks to be assured of their naturalization by the end of 10 days or the area will be declared vacant.
The last sentence is the whole point of the letter:
"I shall declare the area vacant and throw it open to public competition."
Why would he want to declare an area vacant that is being successfully worked for wolfram? Here is the letter Mr. Brander, D.C. Tavoy sent a few days later to the Commissioner of the whole area, the Tenasserim Division. In it he describes how rich the area is and how 54 tons of wolfram was produced in five months. He also points out there was nothing against granting a license to a foreigner at the beginning of 1915 as "Rule 12 A of the Mining Rules had not been issued."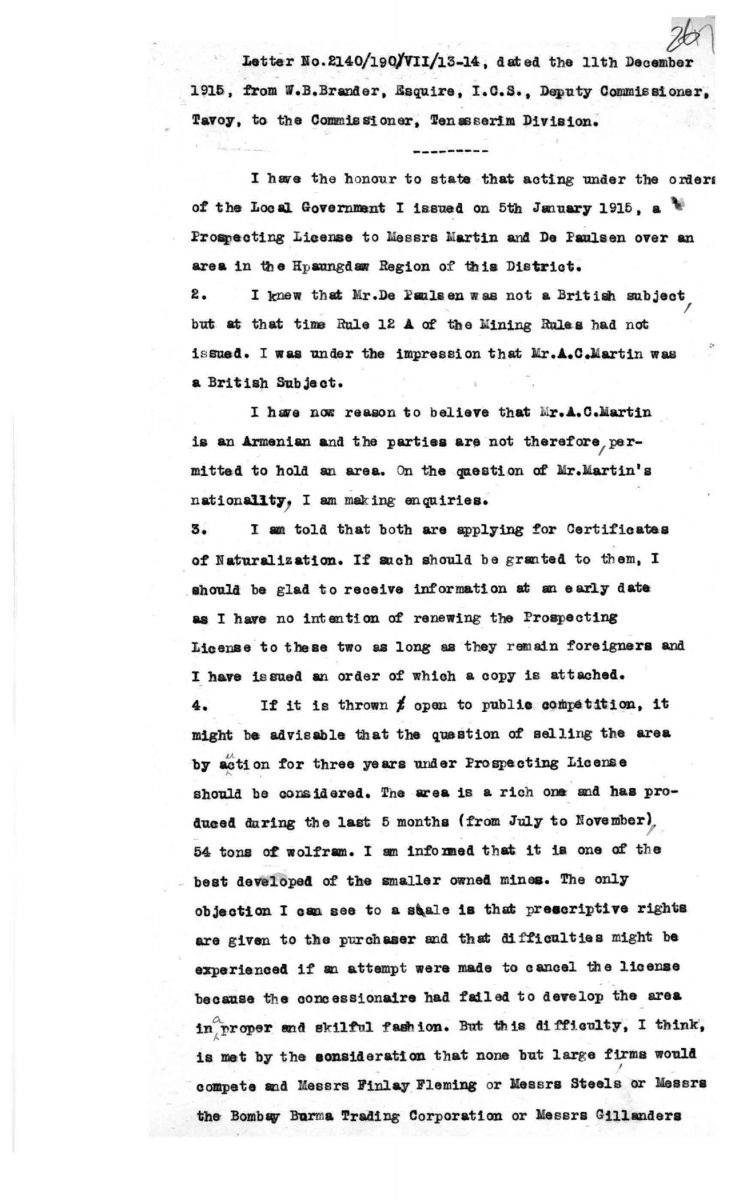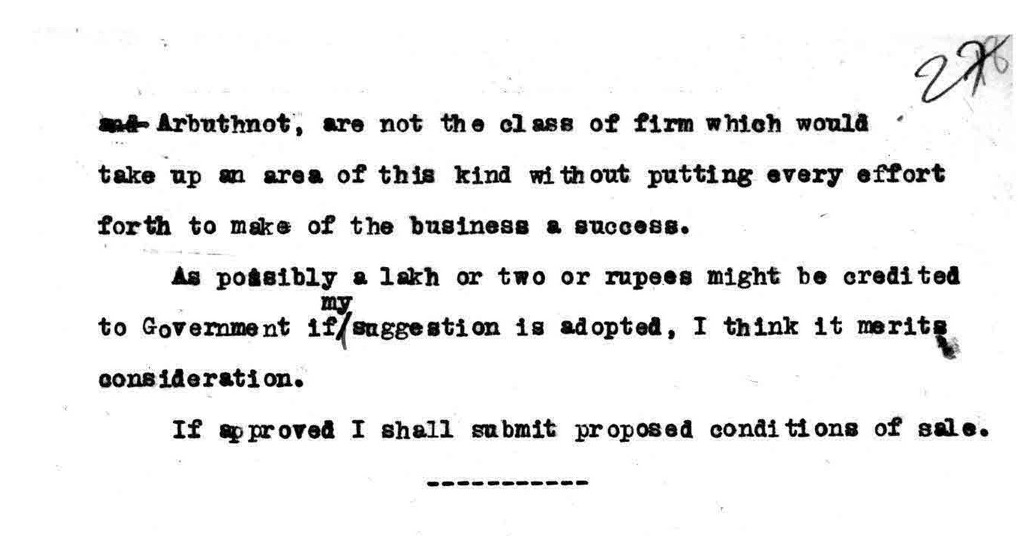 A gem from this letter:
"Item 3: I am told that both are applying for certificates of Naturalization. If such should be granted to them, I should be glad to receive information at an early date as I have no intention of renewing the Prospecting License to these two as long as they remain foreigners and I have issued an order of which a copy is attached."
And the final kick is – he suggests the refused license could then be sold to one of the large British companies; not a small one because you need a large company to be sure to develop it properly (conveniently ignoring the success of Mr. Martin and Mr. DePaulsen over the year):
"…..none but large firms would compete and Messrs Finlay Fleming or Messrs Steele or Messrs The Bombay Trading Corporation or Messrs Gillanders and Arbuthnot are not the class of firm which could take up an area of this kind without putting every effort forth to make of the business a success.
As possibly a lakh or two of rupees might be credited to Government if my suggestion is adopted, I think it merits consideration."
The Financial Commissioner immediately sent a telegram to the D.C in Tavoy, asking him to get a geologist out there as soon as possible and report back.
A year of extremely hard work establishing the wolfram mine was for nothing. The naturalizations of Mr. Martin and Mr. DePaulsen were refused. The irony of a xenophobic official, living in a foreign land, who had an abhorrence of "foreigners"  was not lost on me as I pieced this story together. And all to preen his feathers in front of his bosses by earning them a few lakhs of rupees (see below for the conversion and what happened to Mr. Martin.)
A.C. Martin is in the lowest row, # 14
A lakh is the amount of 100,000. In 1916 the rupee was worth approximately US$0.31. So the first three year license at a minimum of three lakhs rupees would have netted the government about $93,000.
In 1919, Mr. Martin applied for naturalization, after a failed attempt in 1917. The string of papers noted he did not get his naturalization in 1917 because of it being "undesirable to naturalize aliens during war." The 1919 application was looked at favourably because of his long services to Government. At the time he was building a ship called the S. V. Armenia, the largest sailing vessel ever built in India. It was built entirely by Burmese labour and fitted out with teak. It was within days of launching, he had been offered and refused 5 lakhs rupees for it, yet he could not register it at  Lloyd's for insurance because he was not a British subject. The local government refused according to "the rules at present" but his case was then sent to the Government of India to decide. Finally, on the 30th of June, 1919 Mr. A.C. Martin was granted his naturalization.